Screen your compound for drug discovery with a T cell activation assay that assess proliferation rate of T cells. Identify the impact compounds have on stimulation and inhibition of helper and cytotoxic T cells to move into the pre-clinic phase of your drug discovery.
Obtain robust quantitative data from T lymphocytes with a T cell activation assay that removes significant effort for your organization and frees up resources. As primary T cell activity assays require delicate optimizations, reliable cell supply and solid data analytics our experts can ensure you get the immunogenicity data you need to move your project forward quickly with a fully validated pipeline.
T Cell activation assay service
Our T cell activation assay facilitates quick identification of compounds and novel immunotherapies that can influence the stimulation or inhibition of T lymphocytes in optimized and validated miniaturized screening conditions. We test your biologics or small molecules in a semi-automated high throughput format, helping your compounds move forward to pre-clinical stages.
Key advantages:
Short project completion from 4 weeks
Rapid semi-automated and reproducible 384-well high throughput assay format
Applicable for immuno-oncology, autoimmunity and drug safety applications
Robust quantitative data
Highly enriched human primary T cells from multiple donors to address donor-to-donor variability
Complementary assay to the Mixed Leukocyte Reaction (MLR)
What is a T cell activation assay?
The T cell activation assay is designed to test compounds, which can affect the capabilities of T lymphocytes to proliferate. By utilizing co-stimulatory antibodies, the T cell activation assay can mimic the response of CD4+ and CD8+ T cell subpopulation against your compound of interest, including small molecules and biologics.
Why use a T cell activation assay for drug discovery?
Understanding the effect of your developed compounds on T cell activity is critical for immuno-oncology applications. The T cell activation assay is a rapid in-vitro monoculture system to assess the desired effect of your developed molecule to promote or block cell proliferation and activation in CD4+ and CD8+T cell subtypes.
Main Applications of T cell activation assay
Validate the immune activation or stimulation of therapeutic candidates for immuno-oncology drug leads
Validate the immune suppression of proliferation for autoimmunity and inflammatory diseases
Immunological safety assessment of therapeutic candidates
Standard T cell activation assay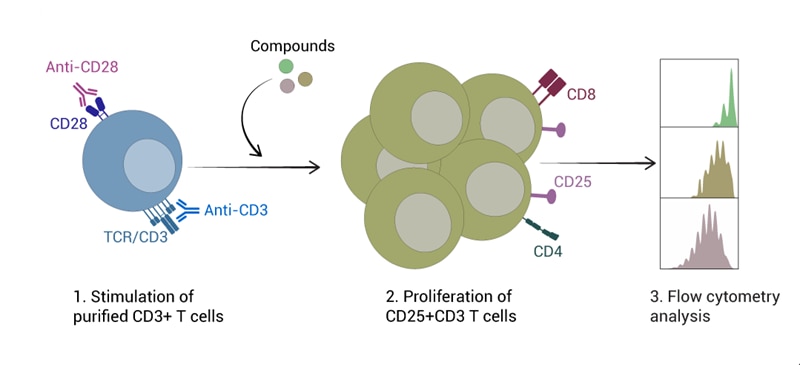 CD3+ T cells are stimulated with a cocktail of anti-CD3/CD28 antibodies and treated with test and control compounds. The activation of CD4+ and CD8+ T cell subtypes is analyzed based on studying proliferation and the expression of the activation marker CD25 by flow cytometry